Evolve 20
Infrared Sauna
The Evolve 20 boasts 25% More Power (Watts) than most 2 person saunas and features our industry first complete 360° infrared body coverage.
Key Highlights
360° Surround Infrared Heat
Ultra Low EMF & Industry's Lowest ELF
100% Hypoallergenic Basswood/NO Plywood
High Power Chromotherapy
Lifetime Warranty for Residential use
FREE Delivery to UK mainland and Northern Ireland. We deliver to Europe and beyond.
Complete 360 degree Infrared Body Coverage
The Evolve 20 has a large heater placed directly in front of you on the front wall, providing true 360 Degrees of Surround Infrared Heat.
Ultra Low EMF (Magnetic Fields) and Industry's Lowest EF/ELF (Electric Fields)
Relax and enjoy your Sun Stream sauna knowing that our all new EHS heater technology reduces EMF & ELF to an all new Industry low. Click here to view testing & learn more.
Smaller Concentrated Heaters = More Infrared Heat on your Body
Sometimes less is more! Click here to find out why.
No Cloth Covers on the Heaters
Most competing Infrared Sauna brands are adhering synthetic cloth covers to their carbon panel heaters. Our Sun Stream 'Nano-Carbon" heaters do not use cloth covers. Click here to learn more.
100% Hardwood Basswood / No Plywood
The Evolve 20 is built entirely of premium grade Hardwood Basswood. Click here to learn more.
Superior Design Heater Guards
Sun Stream's wooden heater guards are constructed with strong, thick wooden slats, widely spaced to maximize the infrared output for your sauna experience.
Water Based Exterior Lacquer
The low sheen healthy water based lacquer protects the exterior wood of your sauna while retaining a beautiful natural appearance.
Titebond Non Toxic Glue
Constructed with made in USA 'Titebond' water based glue which is approved for contact with food.
LCD Control Panel
Adjust the settings to your liking from inside the sauna as your session progresses.
Adjustable Infrared Intensity
This unique feature allows the user to adjust the Infrared Heat Intensity for different purposes and personal needs.
100% Full sauna sweating experience
75% Hot yoga, Athletic stretching, Injury treatment
50% Elderly & health challenged individuals
Bluetooth Audio Receiver
Connect your mobile device in an instant to enjoy your favourite music on demand! Concerned about RF radiation? Easily remove the Bluetooth Module from the Audio Circuit board & connect a 3.5mm Audio Cord to the device of your choice to reduce any possible RF radiation in the sauna.
High Power 45 Watt LED Colour Light Therapy
Operated by remote control, the Sun Stream Evolve 20 features our significantly more powerful colour light therapy verse our competitors very low wattage alternatives. Experience the difference!
2 x Red Cedar Backrest
Our Sweat Stain resistant backrests will sit solidly in place and enhance your ability to sit back and relax!
L Movable Bench x 1
Put your feet up and relax with our unique movable bench.
Removable Floor & Wall Heater Guards
Easy access means you can clean the sweat off our wipeable heaters to maintain hygiene.
FREE BONUSES
Sun Stream Towel, Cup Holder, Aromatherapy Unit, Dry skin Lymphatic brush & Sauna Hat.
Measurements
External Dimensions: 1180 mm (W) x 965 mm (D) x 1880 mm (H)
Internal Dimensions: 1120 mm (W) x 865 mm (D) x 1755 mm (H)

Electrical Specifications
The Evolve 20 plugs into any standard 220-240 Volt wall outlet
2080 Watts, 230 Volt, 9.04 Amps
Depending on your electrical setup, you may require a dedicated 230V / 20amp circuit for the Evolve 20.
Quick and Easy Assembly
With our invisible fastening system, installation is quick and easy. Our detailed assembly manuals with professional photography make for a stress free assembly experience.  Download Installation Manual
Not sure which sauna is right for you?
We know choosing a sauna can be a big decision, and something that can take a lot of time to research, that's why we're offering to do all the hard work for you.
Simply let us know which Sun Stream sauna you're interested in and the competitor's product you'd like to compare it against, and we'll do our best to send you an impartial evaluation of the two models.
Compare brands
"*" indicates required fields
"
Compared to other leading brands I've tested, the Evolve 20 delivers a faster heavier sweat due to its 360 degree Infrared body coverage. It's also the lowest EMF & ELF sauna I've tested. It's truly exceeded my expectations!
Just took my first sauna [Evolve 20] and WOW! What an awesome IR Sauna! Easily 4 times as intense as my old Sunlight sauna. I love it!! I do strength training 2 times a week and sauna afterward. What a great after workout regimen! Day 3 of the new sauna and I'm obsessed with the intensity of the Evolve 20!! I've never sweated so much in a sauna in my life, bar none…. With my old Sunlight sauna, I could go 30 minutes at top temp with no problem and wouldn't be near as sweaty.
I wanted to write to you to thank you for your wonderful Sauna. First I want to thank you for answering all my questions and calls , you are very knowledgeable and patient with all my questions. I have only missed 3 days in the last 2 weeks and the benefits I have seen already are a lot more than I expected . I had some Tendinitis in both knees and it disappeared after two 30 minute sessions. There is so many other things but I will run out or time. I looked at 5 different brands and talked to many different people about all the top brands and I still think this was the best buy for the money. I know there are saunas that cost a lot more but I don't know why you would want to spend that much when yours works so well. Thank you!!!
I have been using the sauna [Evolve20] regularly and I truly enjoy it! I started to use the sauna about a month ago. Since then I have used it every night. After a long day I enjoy sitting in the sauna to detox and it almost feels better than a long workout. 5 stars on the assembly! I had no one to help me with the set up, so I was grateful that the sauna went together easily. It's space friendly and looks great. This was an excellent investment and I am a 1000% a satisfied customer!
I finally got to truly try out the sauna. I love it! I sweat so much that I left a puddle on the floor. One of our patients who has used Infrared saunas before commented that this one [Evolve 20] was 1000 times better than what she has been paying to use elsewhere.
I am thoroughly enjoying the Evolve. I don't think I sweat as much from even strenuous aerobics on a warm day! And far from being drained, I find myself loose, fresh, and energized afterwards. After four or five sessions, I noticed marked improvements in both deeper sleep and endurance in my workouts. Kevin, you should be proud of your design. I believe the Evolve is efficient, effective, and worth every cent. "Warm" regards,
I'm enjoying the Evolve more than I can describe in a few lines!! That front door heater cooks like a Louisiana barbecue. Once it hits 115 degrees F., (which doesn't take long at all) I start to sweat. And within 3-5 minutes it's at 120 F. and the toxins are pouring out of me. This has been the best money spent in years. And you were easiest CEO, owner, salesman I've ever had the pleasure to work with.
LOVE YOUR SAUNA! I used the sauna last night. I LOVE it very much. It was so relaxing especially after many days of dealing with the construction team. I cannot wait to use it again tonight.
The sauna is my favourite daily retreat. I use the sauna daily following physical activity to relax muscles. The sauna is very effective and sweat occurs within 10 mins. I could not imagine having the sauna without the door mounted heater design. It targets all areas needed and the warmth is comforting. ...really enjoy the essential oil diffuser and colour therapy for a relaxed setting. The benefits of detoxification and relaxation of muscles is very much valued. The craftsmanship of the unit is beautiful, making a nice addition to the bedroom where it is set up. I have recommended your brand specifically as I am very pleased with the quality and service.
Your saunas are gorgeous. The innovation in the Evolve actually took my breath away. The prices are excellent, especially given the quality. I am very impressed with the Sun Stream Infrared saunas, so it is no surprise that my son's ND recommends them Thanks for making such gorgeous and effective products.
Yes, I have been using the sauna but of course! It's great! I'm loving it and still can't believe it's actually here! I love the colour therapy and the stereo is working great! It seems to warm up super fast, faster than I expected compared to other saunas.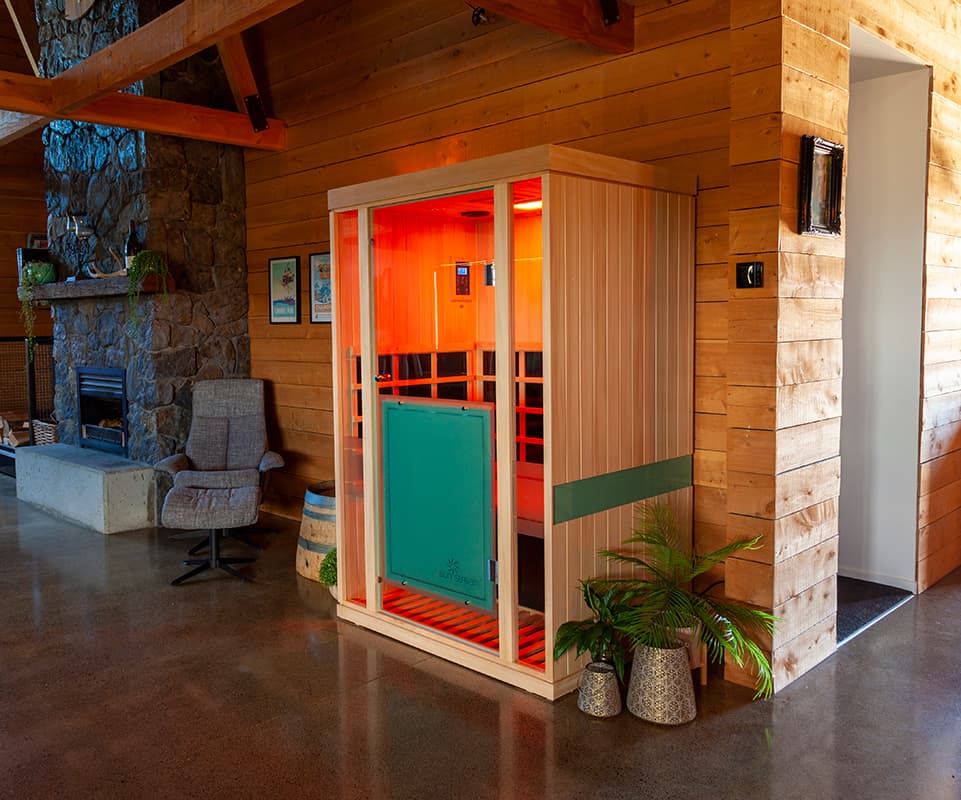 Built to last
Our sauna range comes with a comprehensive Lifetime Warranty.
With any product that has working parts and electrics involved, there is the potential for breakdowns to occur. Therefore, it is extremely important that you have an adequate warranty in place.
The Sun Stream Lifetime Warranty covers heaters, the electronic control system, and the cabinet for major deformations or breakage due to manufacturers defects. Commercial installations are covered by a 5 year warranty (Terms and conditions apply).
Got questions?
We appreciate that purchasing a sauna can be a big decision, and that's why we're happy to answer any questions you might have. Simply fill out the form below and we'll be in touch as soon as possible.
"*" indicates required fields